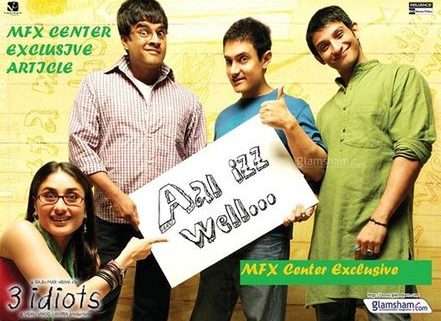 We all watched the movie 3 idiots and we really liked its motive but as a trader did you try to apply the theory? What Traders can learn from this movie? The simple yet powerful strategies of 3 idiots movie can help us as traders to improve our trading performance and enhance our trading life. Let's check out the exclusive article about impressive techniques a trader can learn from the movie by Rajkumar Hirani, 3 idiots.
What Traders Can Learn from 3 Idiots Movie?
3 Idiots is a 2009 Indian Hindi-language coming-of-age comedy-drama film co-written (with Abhijat Joshi) and directed by Rajkumar Hirani. The film stars Aamir Khan, R. Madhavan, Sharman Joshi, Kareena Kapoor, Boman Irani and Omi Vaidya. (Source – Wikipedia)
Theory Number 1:- Don't run after success, be a good trader and success will run after you.
If you don't know what to trade how to trade and when to trade properly then you are not a good trader, cause you don't know about yourself how can you know about the market and trade with the market. If know-how to? Then you will know when to? And if you know when to then you will never lose the capital. To be a successful trader, I personally never traded much rather I invested thousands of dollars for learning. Yes, for learning. If I tried to invest those dollars before learning I got have got out of the FOREX world years back but no, I worked hard to learn about the market and by the RAHMAT of ALLAH and my knowledge now I can trade properly and earn a handsome profit.
Theory Number 2:- Try to Love what you do, rather than just sitting in front of the market and making losses.
You should love the way of trading. I personally love trading so much that I can trade without sleeping a whole night, I can look at the chart 24 hours without any glimpse and I can analyze research my whole life. I love this trading career that much. Though my love for trading cannot be expressed in words and no one can sit in front of the platform and wait for trades, of course, that's not my style of trading, the thing is that I love trading. That's what is required. If you love something, then you will get more reasons to learn it properly and apply it perfectly. That's why they say when you have "Will Power" you don't need anything. If you want to do it, you can do it, no matter how hard it is, but our power to achieve is very important. If you are only in trading for making a living and you don't like this profession and you don't like to trade and you only want shortcuts then you should quit now, cause I personally don't want anyone to have a bad experience in this trading field.
Theory Number 3:- Don't Be Afraid of what you are doing.
Traders are in risk, we all know that. They have the risk to lose all their money in trading. But if you know how to protect your account from false trades that's what matters most. Everything in this world has a risk, come on our life is also at risk every moment. We never know what is going to happen next so, how can you tell something or predict 100% about something in the FOREX market? That's just common sense. You can use Stop Loss and you can use trailing stop which most of the traders of the world mainly Bangladeshi stock traders don't get it handy. So, how lucky you are. You are getting leverage over your capital and you can trade well with a minimum amount of capital. But why traders are afraid, because they don't have confidence in their trade and they are afraid of losing a bit of the money invested. You need to make up your mind, that's what is mostly needed. And don't risk such amount of money in a trade which you cannot risk. Use proper money management and use SET AND FORGET technique. Believe me, it really helps.
Theory Number 4:- Don't memorize, try to understand.
I see many traders who try to memorize a lot of things, like chart patterns, candlestick patterns, indicators use etc. In my way, No need. There are thousands of patterns of charts, candlesticks and millions of indicators being sold in the market. Why bother? Keep your trading simple and try to understand what market is trying to tell you. Have you watched the ROBI advertisement? "KAKU Becomes DAKU"? This advertisement showed that miscommunication can be a big problem and that's what I am trying to make everyone understand that try to have good communication with the market. The market speaks, and you need to listen. We don't move the market, we just follow it. So, try to read the market, understand what it is trying to say, rather than memorizing the patterns and waiting for the pattern to appear on the chart and then trade. Who knows, the pattern may have false breakouts and false setup. So, try to understand that's what is called a magic spell and that's what I personally use.
Theory Number 5:- If you are specializing in one field, why trying to diversify for profit? Like the GADHE SUHAAS in the film.
We saw a character in the film, SUHAAS who did engineering and then MBA so that he can fit into a job to get a good amount of money. Wherever he sees a good profit, he runs after it as well as he also shows off what he has. Many traders in our society trade with several numbers of pairs and try to take over 10 trade a day. For them, STOP RIGHT THERE. You are trying to lose all your capital. If you are trying to show off that you use a good amount of indicators and trade with more than 10 pairs a day and trying show yourself as a successful trader, wait for brother you are showcasing yourself. If you are telling you don't lose trades or you have over 99+ accuracy you are faking yourself as well as others in the community. Don't overtrade, and don't showcase yourself. If you are good, people will talk about you, you don't have to shout and inform everyone about your greatness. So, try to analyze with maximum 3 pairs a day and try to be very specific and don't jump on a trade without confirming the trading conditions. Select the pairs which fit your styles and setups and go after it.
Theory Number 6 :- ALL IZ WELL.
The ALL IZ WELL theory works everywhere. In the film, we saw its effect and traders might also have good use of it. ALL IZ WELL, traders remember it cause ALL IZ WELL is needed mostly for the traders. This can be used as a SPELL. Yes, SPELL to keep your confidence. I saw many traders including myself getting a bath by sweat when the trade goes against us. What a scene? What a moment? It feels like why did we open the trade? What's wrong with me? At that moment, just listen to your heart saying ALL IZ WELL. Try not to close your trade before hitting stop loss. I saw many cases where before STOP LOSS is hit the trader closes the order but after a few minutes the trade comes to favour and without hitting the stop loss level it goes directly to take profit level. That's what many traders have experienced. So, keep calm and control your emotions. Don't lose hope, and make sure to confirm trade and analyze properly before opening an order. Don't try to analyze more after the order is opened, on that time you will not get a chance to repaint your mistakes. Say ALL IZ WELL and be confident. What will happen if you lose the trade? If you are properly maintaining the money management you will get hundreds of opportunities in the future. Don't lose hope, Just say ALL IZ WELL.
To learn how to trade like a Professional Trader and have proper mindset to make a consistent profit, Join MFX University today. Exclusive Discounts and Offers available.
Thanks for reading the article
Exclusively on MFX Center
MD. Rockybul Hasan
Founder & Chief Analyst
image courtesy: Scrolldoll.com
https://mfxcenter.net/wp-content/uploads/2020/07/6853182.jpg
331
441
MD. Rockybul Hasan
https://mfxcenter.net/wp-content/uploads/2018/11/MFX-New-Logo-1-300x179.png
MD. Rockybul Hasan
2020-07-24 13:00:44
2020-07-25 19:41:59
What Traders can learn from the movie 3 idiots? (MFX EXCLUSIVE)